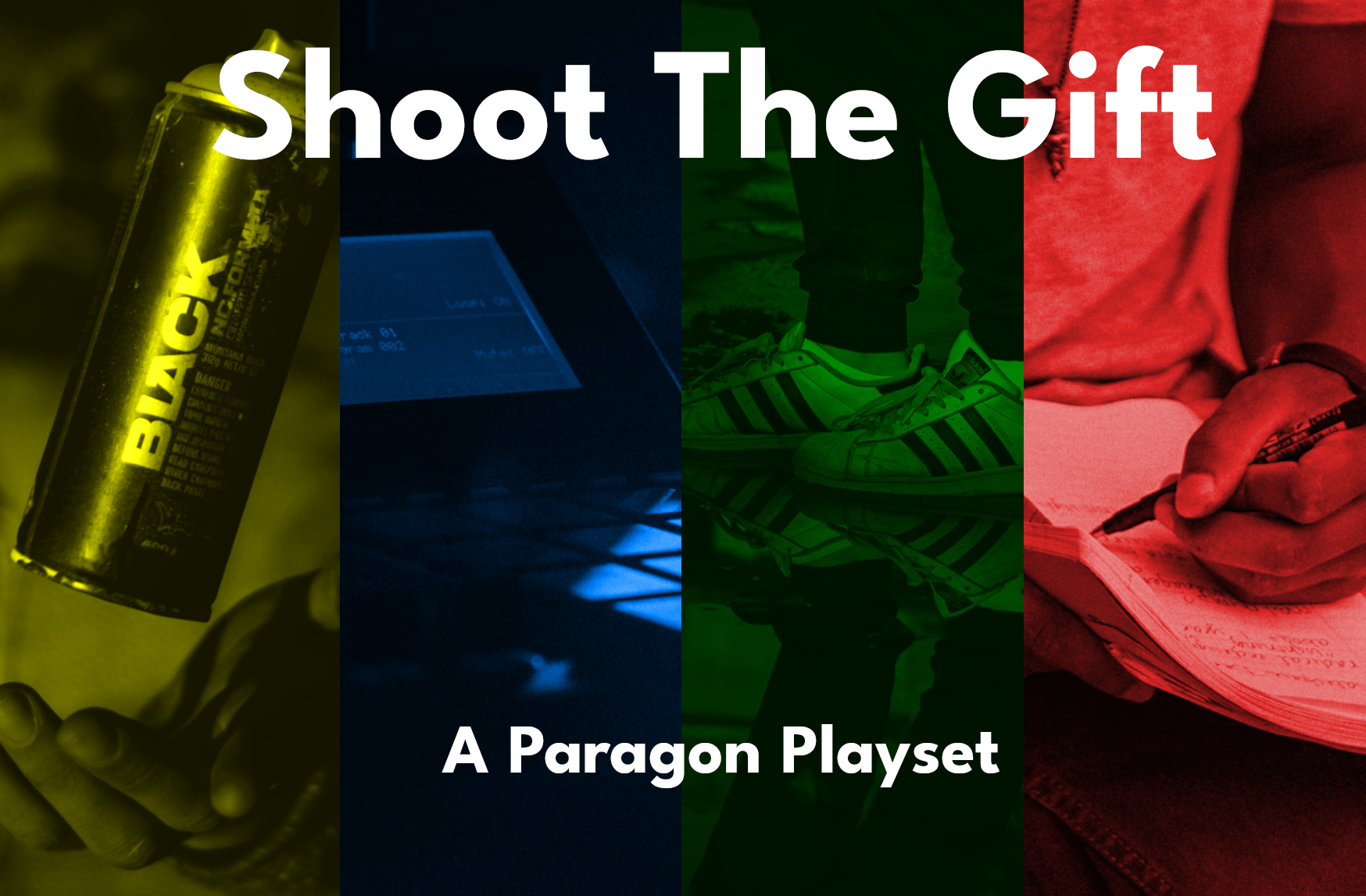 Shoot The Gift: A Paragon Playset
SHOOT THE GIFT is a Hip Hop and YA dystopia playset for the PARAGON system from the AGON roleplaying game. A copy of AGON is required to play. For more on the PARAGON system, including how to publish your own playset visit AGON-RPG.com.
"Here's a little story that must be told..."
The world's fallen apart and the pieces have been divvied up between corporations-turned-governments. People either toil endlessly in Babylon--the hollowed out metropolises run by greedy City Lords--or struggle to survive in villages just outside of irradiated wastes. Amidst the darkness, you and your Crew have been given a Gift to bring the world some light.
The Game
In Shoot The Gift, you'll travel a wasteland, using Hip Hop to literally and figuratively change the world.
RIYL: Recommended If You Like
Dystopian YA fiction (ex. Hunger Games, Maze Runner, The Giver), 90s and early 00s rap, the comic series Phonogram, and road trips.
The Pack
In this AGON playset, you'll find:
Character creation based on one of four Instruments (The Mic, The Beat, The Moves, or The Paint) through which you'll focus your powers.
A new take on the Vault of Heaven and Islands called The Old Line, a series of long dormant mass transit routes.
Eight Stops--eight full adventures on The Old Line--inspired by the Hip Hop and local color of different regions across the United States.
Game Information
Number of players: 3-5
Suggested Age: 13+
Pages: 41
Inspired by the Lasers & Feelings hack Create & Devastate, by me. Play the interactive fiction "prequel" to SHOOT THE GIFT, "Play This Only At Night" at this link.
Purchase
In order to download this game you must purchase it at or above the minimum price of $5 USD. You will get access to the following files:
Shoot The Gift - Transit Schedule.pdf
247 kB
Shoot The Gift - Players Sheet.pdf
31 kB
Shoot The Gift - Paragon Playset.pdf
6 MB